Reliable protection in case of emergency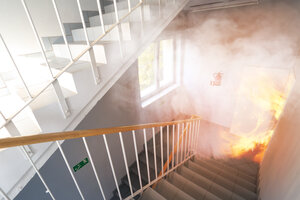 Our drives for smoke and fire protection offer technology at the highest level. Compliance with standards and classifications is as important as it is necessary - for a safe feeling.
In the event of a fire, a smoke curtain or fire protection closure must be rendered ineffective in a controlled manner and automatically reach the functional position. This self-closing feature, combined with the integrated control of the closing speed, makes fire protection solutions even safer. Whether smoke protection closure, fire protection closure or fire protection closure - the application is proven and certified.
Our self-closing drives, which bring the fire protection closure into the functional position without auxiliary power - also known as fail-safe tube motors - are available in various designs and sizes.
Fire protection drives - from Becker.
Our tubular drives with the right locking device for your application:
Smoke barrier
Fire protection barrier
Fire protection curtain
Smoke protection curtain
Our tubular drives with the right locking
device for your application:
Technical information and details can be found
in our catalogue: