What we stand for
"Together it's easier". This philosophy permeates all our thoughts and everything we do. For us, this means interacting with our customers and partners as equals and fostering a collaborative and respectful way of dealing with one another. In the same way that we trust in our achievements and our employees, you in turn can place your trust in us.
We strive to develop high-quality, individually-tailored systems that make everyday life easier. In areas that are important to you. Creating valuable benefits and enthusing people – we are proud of our achievements. What's more, we are always on hand and are quick to help when you need us.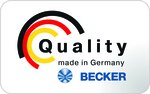 Quality from Germany
We operate all over the world, yet our conviction keeps us faithful to the site where the company was founded in Sinn in the German State of Hesse. Just as we remain faithful to the high quality
standards that apply to all our products, which we therefore continue to manufacture in Germany. We stand for these high quality standards with our "Made in Germany" seal of approval.
Founded: 1921

Headquarters: Sinn, Hesse

Managing Directors: Jürgen Timm

Employees: approx. 350 (of which approx. 240 in Germany)

Annual turnover: approx. €70 million

Number of tubular drives produced each year: approx. 850,000 units

Subsidiaries: Benelux, France, Spain, Czech Republic, Turkey, Slovakia

Collaborative partners: in Asia, Australia, Europe, Middle East and Africa

Quality certification: DIN EN ISO 9001
Way back in 1921, the two founders of the company, Emil and Adolf Becker, were working on ideas that were intended to relieve their customers of work and effort. A particular milestone in our company history is the year 1965. That was when Becker started to develop and manufacture door drives and the associated control units specifically for industrial applications.
In 1971, we extended our product range by adding tubular drives for roller shutters and sun protection systems. We also started developing and producing electrical and electronic control equipment.
Drives have been what drive us for a very long time – and our product range is continually developing. In 2000, the first drives with integrated radio receiver were added to the range, for example. Another important milestone was reached in 2013 with the B-Tronic bidirectional radio control system and our CentralControl home automation system.
The market for smart homes is starting to grow - today, there are a lot of solutions that have been established for users and that Becker products are compatible with. Our drives can be controlled using the FRITZ!Box or the homee or mediola systems, for example. This allows us to offer our customers even better quality of life, increased security and convenience: and this is achieved through intelligent automation technology that makes life easier.
The grandson of Emil Becker, Hans Joachim Wiegelmann, is still the managing partner and owner of the company today. Jürgen Timm manages the company in his role as Managing Director. We have grown into an internationally sought-after provider, yet we have kept the culture of a family company where responsibility and quality matter. This is one of the reasons that we remain faithful to our site in Sinn, Hesse, where the company was founded, while we continue to manufacture our products in Germany. And our development strength is something that attracts a lot of attention: we have been awarded the the "Innovation through Research" seal in the area of research and development by the Stifterverband initiative. This goes to show: the Becker way is ready for the future too.