Increasing your level of security
You can depend on your roller shutters in any situation - even when you are away from home.
At home you want to feel secure and free from any major concerns. This is why your automated roller shutter control system not only provides convenience but also improves your security.
Simply safe
As soon as it gets dark, press the switch or use your remote control – and your roller shutters, from the cellar up to the attic, will reliably move down into the closed position. Or alternatively, use a timer with Astro function or a smart home solution. Then your roller shutters will know for themselves when it is time to close and when to open again in the morning.
Then your roller shutters will know for themselves when it is time to close and when to open again in the morning. If a roller shutter encounters an obstacle such as a rogue toy or flower pot, it will automatically stop in good time before any damage is caused to either the object or the roller shutter. This is taken care of by the sensitive obstruction detection system in your Becker drives.
And you can feel just as relaxed when it starts getting late. You can rest assured that your roller shutters will do their job at the very moment for which they have been programmed, thus making life difficult for any potential burglar.

Effective protection against burglary
But what if you're away for a longer period, on a business trip or summer holiday for instance. Is everything really OK at home? With automated roller shutters, you can be sure that there is no cause for concern.
The roller shutters open and close automatically in their normal rhythm, thereby disguising your absence. And if someone does attempt to push the roller shutters up, the drives will again scupper their plans. When used in combination with anti-lifting devices, your Becker drives ensure much more contact pressure on the lower end strip, making it significantly noisier and more difficult to lift up the roller shutter.
Everything's under control even when you're not at home
Leave absolutely nothing to chance with bidirectional drives. The status feedback allows you to keep an eye on everything even when you're away from home, and you can use the CentralControl system to check whether all roller shutters are down, for example. This reliably protects both you and your home from burglars.
In addition to the roller shutters, the sun protection system and the garage door, other electrical equipment can also be controlled by the CentralControl system, regardless of whether or not you are actually at home.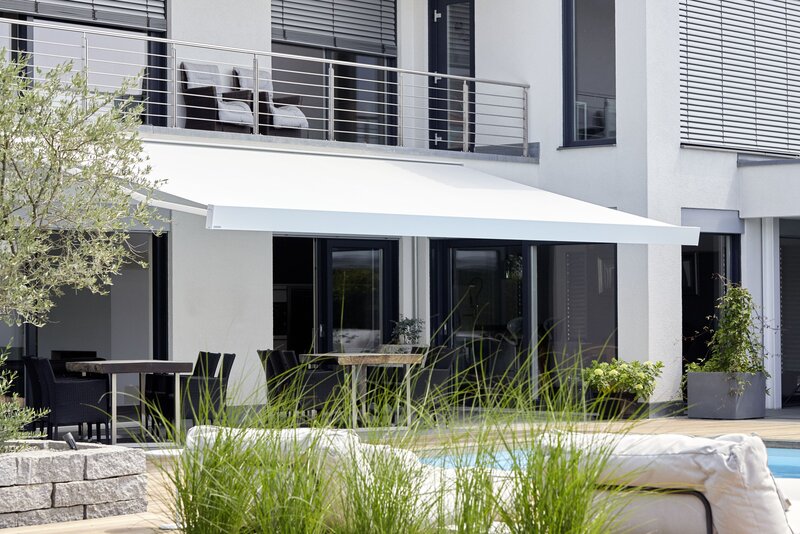 You may be on holiday when you are suddenly struck by an unsettling thought: "Did I really remember to switch off all the lights in the house? And is the coffee machine still on?" – the solution is so simple. Just log into your CentralControl system or smart home solution from your smartphone or tablet and check the status of these electrical items in only a matter of seconds. If your suspicions are confirmed, all it takes is a single click to turn off the light and the coffee machine, so you can relax and continue enjoying your holiday.
Your roller shutters will look after themselves while you're away from home. Just program in the required settings on the CentralControl system or smart home solution and you're ready to go. Updates are available free of charge and ensure that your CentralControl system always remains right up to date.