Enjoy more convenience
Just put your feet up, relax and forget all about time. There's nothing easier. Enjoy being gently awakened by rays of sunlight as the Astro function automatically opens your blinds and roller shutters at sunrise. Or just keep on dreaming – if you are a late riser, you also have the option to set a time for your own personal "sunrise".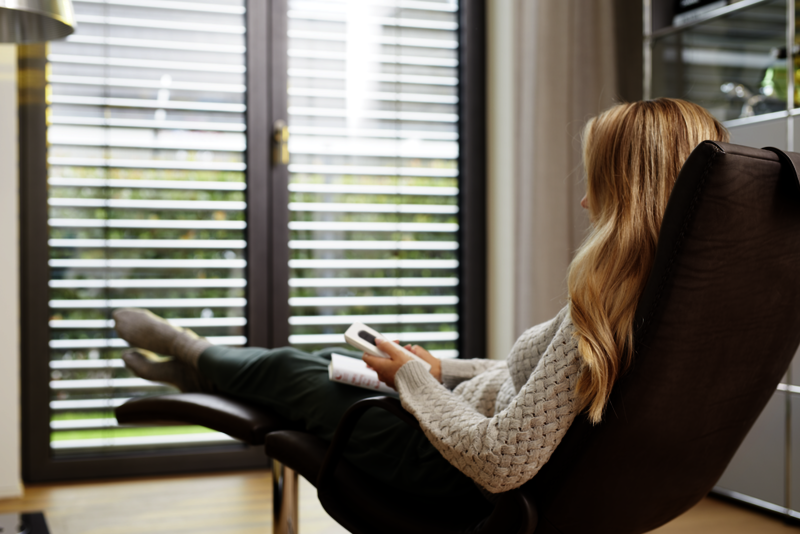 Light and shade just how you want them
If you find yourself dazzled by light at the breakfast table, just one click is all it takes for your roller shutter control system to create pleasant light conditions. The light sensor means that there is also the option for your roller shutters to automatically close before you find yourself dazzled by the light. And it's equally simple to extend your awning with just one click – don't forget that you're planning to have friends over for coffee in the afternoon. Since you equipped your awning with a sun/wind sensor, it probably noticed a while ago that it's time to provide a nice bit of shade.
The right decision automatically
You're out doing some shopping ready for your visitors when all of a sudden the sky turns black. No cause for concern: after all, you are secure in the knowledge that your awning will retract to its safe position automatically and promptly thanks to your sun/wind control unit. By the time you get home it's raining cats and dogs. What a good job your garage door opens and closes at the press of a button with no need for you to get out of your car. This means you get back to your home with dry feet.
Simply switch off
Fortunately the stormclouds have moved away by the time your visitors arrive. This means that you can have a nice chat and enjoy some time out on your terrace. Just a click of the mouse will bring the awning back out again if it gets too hot, providing you with some welcome shade.