Smart protection in every season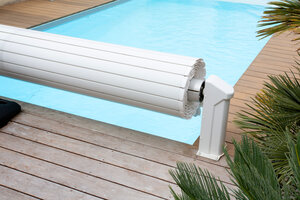 Thanks to our DC-powered drive systems, pool covers can be moved effortlessly. This creates several advantages that swimming and bathing enthusiasts can enjoy all year round.
Drives for pool covers are characterised by increased protection class and thus high resistance to water. To ensure that the roller shutter cover can glide effortlessly over the water, a low speed and a high torque are required. Similarly, the high weight of the wound up must be held securely. All these requirements are met by the drives from Becker and you can rely on the reliability - Made in Germany.
Our tubular drives for your application:
Roller shutter covers
Pool covers
Our tubular drives for your application:
Technical information and details can be found
in our catalogue: