Combining a positioning system, a door drive and a bold vision to create a flexible lift system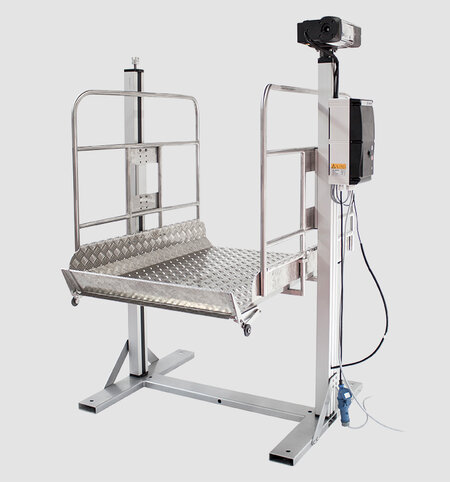 When one of the world's leading manufacturers of modular positioning systems joins forces with a renowned drive and control unit specialist for roller shutters, sun protection systems and doors, it conjures up many different thoughts and expectations – but probably not of a minor revolution in the field of barrier-free living. And yet this is the declared goal of an ambitious project devised by Bahr Modultechnik GmbH and Becker-Antriebe GmbH. Both businesses have made it their aim to close the 'gap' in the smart home sector and to guarantee accessibility in its original sense – i.e. of overcoming differences in height – in every situation as effectively and efficiently as possible. Be it due to an accident, ill health or old age: Sometimes reduced mobility advances faster than we had expected and the one thing everyone wants is: Good quality of life in their own four walls. With these challenges in mind but also enthused by many other areas of application, such as the general transportation of loads or tasks in canteens, Dirk Bahr, co-founder and head of design at Bahr Modultechnik, has now developed a special lift system featuring a loading ramp and benefited from the support of Becker. "As a drive and control unit specialist, we obviously also offer systems for central home automation which enhance the quality of life enormously in old age or when suffering from physical illness. But what is the point of such systems if I am unable to access my home on my own? When Dirk Bahr came to us looking for help with his idea, we immediately recognised the opportunities of working together – even if lift systems were just as new for us as they were for him," says Jens Hederer, who managed the project at Becker.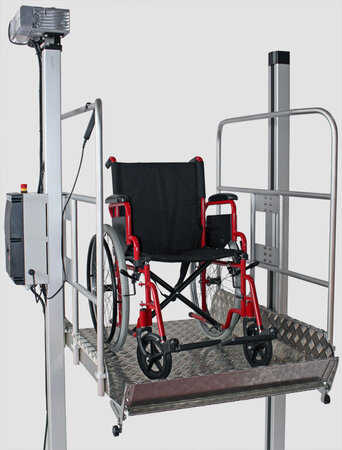 The motivation for Dirk Bahr to become active was the situation faced by one of his son's friends. Due to his severe disability, a wheelchair-bound young man was unable to enter and leave his home without the permanent help of his father. A staircase made access difficult and the father was forced to carry his roughly 80 kg son up and down the stairs whenever he wanted to go anywhere. It was therefore clear to Dirk Bahr: A solution was required. However, he soon realised that there were no 'off-the-peg' solutions that came anywhere near meeting the special requirements. He therefore used his extensive know-how in the field of positioning systems and, without further ado, developed a lift system. The sheer enjoyment and noticeable relief it gave to the family encouraged him to continue perfecting his invention. The decisive question was: How is it possible to start and stop the lift 'gently' to enable old or ill people to use it free of fear? In Becker he found the perfect partner to solve the challenge – with the aid of a modified door drive, including a frequency converter control unit which normally ensures industrial doors open and close quickly and gently. "The key thing for us was to understand what Dirk Bahr actually needed. We therefore sought a personal meeting with him to discuss his ideas and exchange expertise," remembers Jens Hederer. "Following on from the initial discussions and understanding the requirements, it soon became clear how we would need to adapt our solution – which was actually developed for a completely different area of application – to meet his specific requirements, and the prototype required just a few tweaks to prove the concept worked."
From the vision to implementation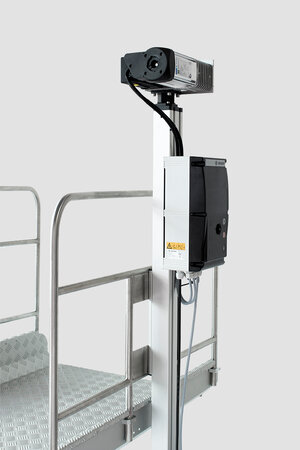 Besides the adapted door drive with a top speed of 112 rpm, it is the corresponding frequency converter control unit that guarantees the required level of ride comfort. It allows the lift to start and stop gently and is thus easier on the mechanical components. In addition to the speed, it also facilitates control of various safety aspects. For instance, the lift only starts up when the door is closed. When in operation, the standard lift version has no problem overcoming height differences of up 1.20 m and supporting a maximum weight of 400 kg. The particular advantage of the system compared to those from competitors: It is available directly and can be installed quickly without the need for major, disruptive structural work. "People who depend on the help of others to move about cannot wait weeks for a lift," Dirk Bahr claims. This is the reason why he will always have a substantial quantity of his solution in stock in the future, which can be installed directly by a qualified professional after delivery. His lift system is also ideal for rental accommodation, as its clever design ensures it can be quickly dismantled if no longer required. One of the first models is currently being used by a husband and wife. The couple in their seventies are delighted to have found a solution that allows them to continue living in their own home as independently as possible. To meet the high demand for his product, Dirk Bahr is presently looking for partners who can also deliver his lifts semi-assembled. The advantage of this is that the lift can then be adapted to the individual conditions on site. And Dirk Becker can continue to depend upon Becker as a strong partner. Because this first project has clearly demonstrated that: We are stronger together.