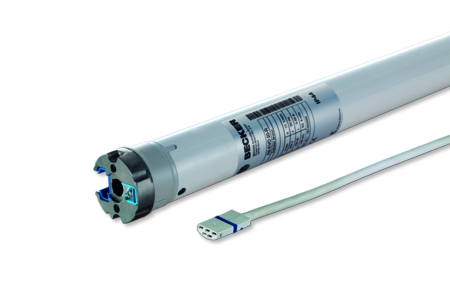 The EVO series from Becker has one particular feature that will be particularly appreciated by many home-owners: It's remarkably quiet thanks to BLDC technology. We have perfected the technical characteristics of the drive so that you have to listen really closely to hear them. EVO has three different travel profiles to chose from. The drive is quieter than conventional drives even in standard operation, where the drive travels slowly before speeding up and then braking again shortly before reaching the limit position. In dynamic operation, the drive travels at full speed in order to open terrace doors quickly, for example. The drive is at its quietest in silent operation. And by quiet we mean like a mouse. Operation is carried out in the traditional way via wired push-button, whereas our app provides useful options for convenient commissioning if using the Bluetooth version. It's our silent champion.
EVO in the Bluetooth version.
The app, which was specially developed for the EVO series, makes the process really convenient, with a wide range of individual adjustment options designed to make operation child's play.
Complete control with the Becker Service app:
Adjustment of different travel profiles (standard, whisper or dynamic)
Definition of ramping in the standard profile: when should the drive speed up and when should it brake?
Speed setting (fast or slow)
Switching the fly screen protection function that protects your fly screen door from damage on or off
Switching the freeze protection function that protects your roller shutter from freezing solid in winter on or off
Display of software version