A Dentist and Internationally Active Specialists Ensure More Garage Space With Jobari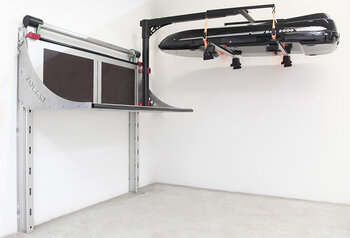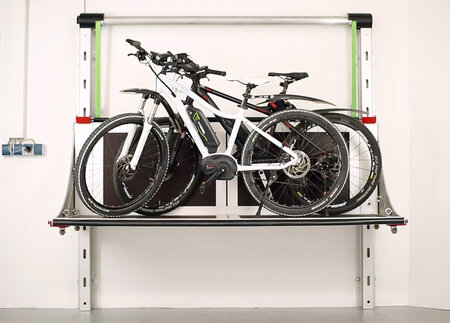 Everyone has at some point stood in their garage and asked themselves the question: How am I going to get everything in here besides my car? Motorcycle, bicycles or workbench – the list is endless. The dentist Dr Johannes Baringer began thinking about this problem when he could no longer close his garage door properly. Had the time come to sell the heirloom from his father – an original 1950s NSU Lambretta scooter? No way. Rent separate storage space? Also not an option. Eventually he came up with a great idea: There is actually sufficient space above the bonnet. So why not use this space to the full? And so the dentist, who in his younger days had also considered studying mechanical engineering, went on a journey to his local DIY store. Utilising metal rails, cables and an electric motor along the help of his uncle, he built a lifting system that raised the old scooter off the ground. Impressed with his design, family and friends planted an idea in his head: "Blimey, you really need to get a patent on that!" And this is how the Jobari – a versatile lifting system for every garage – came to be. It is also a story in which Herrmann AG and Becker-Antriebe GmbH play a key role. They demonstrate what can actually be achieved when challenges are shared amongst peers and overcome together.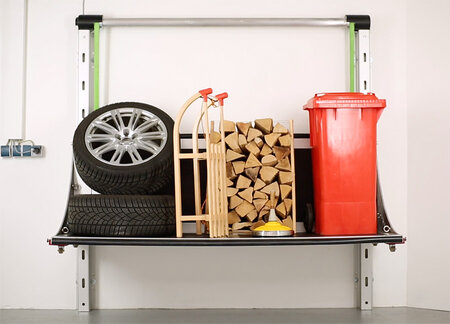 "During the patent application process, I soon realised that I really wanted to turn my idea into reality and enable others to benefit from it. But this demanded professional further development – since my design worked all right but required a lot of self-love to be truly acceptable," says Dr Baringer with a wry smile. While searching for a suitable partner, he came across Herrmann AG based in the southern German town of Pösing – which is no more than 40 kilometres from his home. The company specialises in the manufacture of lifting platforms for vehicle service shops and has become internationally renowned. Herrmann AG was entirely convinced of the idea and expressed its willingness to feed its prior experience into the development process. "Actually, a private application is not really part of their core business. I was therefore even more delighted when the senior manager Johannes Herrmann contacted me personally. Just a fortnight later, we sat down together for the first time and we felt that the chemistry was right," Dr Baringer explains. And so Roland Rothkegel was the next person to come on board – a passionate engineer, who has been responsible for development in numerous Herrmann AG projects. Issues were raised and problems addressed, always with a clear goal in mind: We were aiming for the best solution, not the fastest. And this is where Becker-Antriebe entered the fray.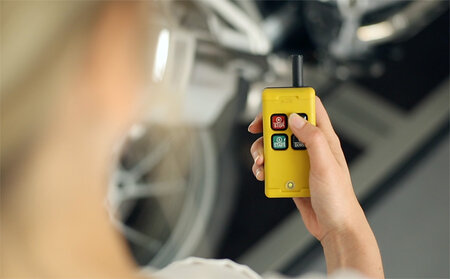 "It was obvious that we needed an electric drive for the lifting system. A shaft in which a tubular motor could be installed was the ideal solution to synchronise the right and left-hand lifting unit. We hit on the idea of a using an awning drive and contacted Becker, the most renowned manufacturer in this sector," says Roland Rothkegel. A real challenge – as all the available tubular motors were not strong enough for this particular application. But this was definitely not a reason for Becker to throw in the towel. Quite the opposite: If a suitable solution is not available, the experts from the German company will do everything they can to find one. Bernd Bauernschmitt, a member of the Becker outside sales team, therefore sat down with product manager Peter Graben and product developer Frank Kosch to determine how the available Becker solutions could be used to come up with a suitable product. The result: two birds with one stone. When describing the requirements of Herrmann AG, Bernd Bauernschmitt explains: "The system required a slow-speed motor with a very high torque – after all is said and done, the system has to lift heavy loads without shooting through the ceiling." "We solved this problem by equipping our most powerful motor with an auxiliary transmission. This helped to increase the torque while reducing the speed." An idea that has especially impressed Roland Rothkegel: "We're over the moon with the solution and quality provided by Becker. We were so impressed with the prototype and it is still in full-time use and running perfectly."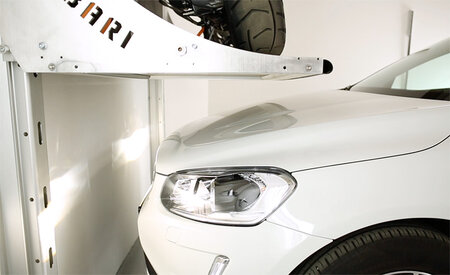 Besides blood, sweat and inspiration, the Jobari – whose name is a charming combination of letters of the inventor's first and last name – benefits from the knowledge, skills and expertise of three whole years of development work. Since the one thing important to everyone involved in the project was: quality. "We placed enormous emphasis on top quality craftsmanship and never stopped thinking about how we could make the lifting system as flexible and easy to use as possible," says Dr Johannes Baringer. In addition to the original idea of a lifting platform, the Jobari can now also be fitted with an optional extendible crane. "The crane, for instance, allows you to lift a roof box onto your car without any additional help," the dentist explains, a lesson gained from his own experience. "It's otherwise a real struggle." The actual lifting platform can safely raise and lower loads weighing up to 350 kg and excels through its high precision and low noise operation. Whether it's motorcyclists who require a practical storage solution for their pride and joy or city dwellers who need to make the most of the space available to them: Johannes Baringer is certain his idea will become a successful product – and initial orders show that he is probably right. "Cooperation with Herrmann AG and Becker was a real stroke of luck," he says happily. "I'm a bit of a technology geek and I enjoy getting my hands dirty – but this level of professional development is something else." He also wants to make the most of the intelligent and well thought out Jobari as soon as possible. But this creates a new problem: "I don't know exactly where to install the new system. The original Jobari is still standing in my garage – it's almost a museum piece and I'm very fond of." But one thing is for sure: It will not take the out-of-the-box thinker long to find a solution to this problem, too.